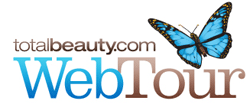 Makeup Files is celebrating its first blog anniversary! Come celebrate with us by entering the huge birthday bash beauty giveaway worth over $100 dollars!
GIVEAWAY ALERT! The Anti Hair Slave is giving away the entire Soft & Beautiful StyleProtect Collection all you have to do is leave a comment to be entered.
Looking for the latest giveaway.. Addicted to Lipstick is having a Kiss My Face Giveaway where she's giving away organic lip shines and lip shimmers.
In honor of Earth Week, Spoiled Pretty is hosting a week's worth of green giveaways. Enter to win eco-chic sunglasses...and beauty booty from Cargo PlantLove, John Masters Organics, Samy, Tarte, Zoya, Kaia, and Burt's Bees!
The Shades Of U is GIVING AWAY prizes from Aminogenesis Dermascyne Wrinkle Arrest and Health Dropz Beverage Booster! Enter to win!
Enter Indian Girl's Complete Skin Care Giveaway : Three lucky readers will receive the complete set of products from Biore Skin Preservation Line. Enter Today !