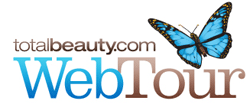 Head over to Bare Budget Beauty this week for your chance to win a beautiful train case with $100 worth of brand name products from BeautyTicket.com!!
GIVEAWAY ALERT! The Anti Hair Slave and KeraCare has teamed up to give one lucky reader the entire new collection especially made for weaves and extensions!
Beauty Anonymous brings you YSL Summer 2009 Makeup Collection.
Who is an eyebrow's best friend? Advice Sister Alison of "The Advice Sisters" interviews eyebrow specialist Elke Von Freudenberg and discovers what makes her so special!
The Makeup Divas
reviews the
Clarisonic Skin Care Brush
. While you are there, check out all of her giveaways and enter for some fabulous prizes!
The Easter Beagle of Girl-Woman-Beauty-Brains-Blog is delivering an Easter Basket full of hare hair products worth over $300! Hop to it and enter now!
Face Candy
shows you one of her
favorite neon nail shades.
This week,
Spoiled Pretty
is keeping up with Kim Kardashian.
Click here for the exclusive interview
, featuring Kim's beauty and style secrets. It's a MUST READ!
Is this the end of an era? Is it possible that Stila is bankrupt? Read what happened while Beauty Junkies Unite was sleeping!
Boutique Flair
reviews the
Invisibelt
. This is a wardrobe must-have created by a veteran Beauty Director for leading women's magazines!
The Jet Set Girls
are giving away a
Smythson Jewelry Roll
worth (no kidding!!) $465!