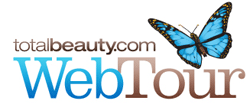 Giveaway Alert! Beauty Blvd. is giving away
2 copies of Mrs. Meyer's Brand New Book!
The book gives great beauty related cleaning tips like how to remove mascara from clothes and MORE!
The girls over at
Beauty in Real Life
are having another giveaway!!! Enter to win a copy of both Bobbi Brown's Living Beauty and Charla Krupp's How Not to Look Old.
Click here to enter
!!!
Beauty Junkies Unite is having a Baby Boomer Beauty Book Giveaway! 5 readers will win copies of Bobbi Brown's Living Beauty and How Not To Look Old By Charla Krupp!
Girl-Woman-Beauty-Brains-Blog is hosting a giveaway from one of their favorite shopping sites - ChickDowntown.com. Enter now to win a Tolani scarf valued at $85.
Meredith at Daily Dose of Coffee has been getting a lot of compliments on her glowing complexion lately! Read more to find out what she's using. PS: it's recession-beauty friendly!

Monique at Beauty Girl Musings is having a fabulous giveaway sponsored by Simplicity Bath and Body! Click here and get all the details to enter!

More Than a Pretty Face is hosting giveaway of the complete collection of Lip Tars from Obsessive Compulsive Cosmetics. This collection of intense colors was introduced at The Makeup Show in LA only last month. OCC sold out of Lip Tar at the event. Enter to win all nine shades from the newly launched Lip Tar collection!

Spoiled Pretty is hosting three amazing giveaways this week. Yes, THREE! Enter the Logics Color DNA System giveaway, Proactiv giveaway, and ZannClip giveaway to triple your chance of walking away a winner. Good luck!